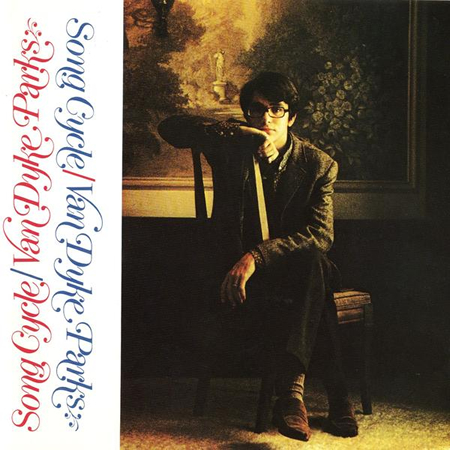 *So, this was Van Dyke Parks' debut album. And, somehow, he actually had a career after it. He continues to produce to this day. Unless he's died and I didn't hear about it. In which case he continued to produce until his death.
*Okay, this is really rough, so let's just get to it.
*So, the first track here is Vine Street, a Randy Newman song. It opens with this weird banjo thing and what will soon become the most hated sound in the world, namely Parks' annoying nasal whine. That part of the track goes for about a minute and then it fades out.
*Then, though we're still in track one, these lush strings fade up and Parks does the actual Vine Street song.
*Worst recording of a Randy Newman song ever? I think so.
*It has this weird stop-start rhythm where he goes from these sort of slow, lush strings to this weird ragtime piano thing.
*A word about Parks' voice. Seriously. You know how occasionally Lennon would sing in that very affected croon? Like on Across the Universe?
*So, Parks sings like that, only all the time, and actually like ten times more affected and twee. You can literally not listen to this guy sing for more than thirty seconds without wanting to just punch him right in the throat.
*So, he keeps doing this weird Entertainer thing in the background of this song.
*And then he pulls one of his favorite tricks at the end of the song. Namely, he plays in more than one key on the same track. At the same time.
*Oh, I'm not kidding.
*So, for the last bit, he's singing Randy Newman's Vine Street in one key while the orchestra behind him is playing a riff on Scott Joplin's Entertainer in another key.
*Surprisingly, this does not sound good.
*So, let me talk for a second about music quality. There are the great albums, of course. Then there are the albums that are not entirely great, but are still essential. Then there are the very good albums, albums just shy of perfection. Then there are the flawed but fascinating albums, albums that are not particularly great, or even good, but are of interest for some reason or other. Then there are the bad albums, the ones that are just dull and boring and of no interest at all. Then there are the beautifully bad albums, the albums that are so bad that they flip around and become great again because they are such delicious train wrecks.
*Then there are the Unlistenables.
*These are the albums or musical works that are so utterly terrible that they are unbearably annoying and infuriating. These are the ones that you listen to while struggling with the urge to rip the CD out of the player and smash it. These are the ones that you end up screaming profanities back at. These are the ones that will destroy your humanity.
*I'm talking about only two things now; before this album, I had only ever found two entirely unlistenable works of music: Charles Ives' Symphony No. 4 and The Incredible String Band's The Hangman's Beautiful Daughter.
*So, here's a spoiler. Song Cycle has no joined that rarified air. That's right; this album is a curse and a plague on humanity.
*Okay, that's out of the way. Let's move on.
*Next up is Palm Desert and, like most of the songs on the rest of the album, it's a Parks original.
*Those two words now evoke a shudder of absolute horror in my soul.
*So, this is a song about going to Hollywood. But the music . . . I guess this album is considered a masterpiece of arrangement. And it is, if you call flinging every instrument in the world in a blender and then sort of making a giant soup out of them all good arrangement.
*Oh, yes, and in different keys too.
*This one also has sound effects of birds chirping.
*Sigh.
*Next up is Widow's Walk. I mean, it's got this . . . I just . . . well, there's an accordion wheezing and there's this strange over enunciation thing Parks does and the melody is just this weird stop and start thing.
*Van Dyke Parks assails the American Canon of Poetry: "It just may be due to discuss in cold turkey mourning in the willows. Or was it the wind? You recollect we all suspect the mortal door will open the sore mind."
*Tell me how the hell you're supposed to sing that crap? So to use the word melody is just false advertising. I mean, it's just this weird sort of formless thing. I mean, I hesitate to even call these songs.
*Did I mention that we have sound effects of birds on this one too? Also ocean waves beating the shore.
*I hope someone gets washed out to sea. You can guess who.
*Then we get a thirty second track called Laurel Canyon Blvd. It's a completely weird sort of baroque music backing and Parks literally warbles a weird little lyric about what's up on Laurel Canyon and his voice is run through some kind of weird distortion.
*It is at this point, I think, that most people will find that their will breaks and they just have to give up.
*Then we get The All Golden, which is probably the worst song yet. He does that thing with two different keys and he also sings in a totally different tempo than the backing music for the entire first verse. And then later on the bridges too.
*Van Dyke Parks sums up the American South: "Constant commentary by the wayside. Nowadays them country boys don't cotton much to one two three four. Rest your team! Work out in the All Golden! You will know why hayseeds go back to the country."
*I wish someone would go back to the country. You can guess who.
*So, I mean, I heard a French horn, a tack piano, a celesta, a glockenspiel . . .
*And I mean this is not the whole track. I mean, this is on top of like the traditional orchestra and guitar-bass-drums set up.
*On a song about returning to your roots!!
*I guess that's what it's about . . .
*Also, we get this weird sound of water bubbling. And the sound of a train pulling into the station. *I hope it runs over someone. You can guess who.
*At this point, specifically during the very next track, I just topped over into towering rage. Here's why.
*Well, the next track is Van Dyke Parks. It's credited to Public Domain. The track after that is titled Public Domain. It's credited to Van Dyke Parks.
*This passes for wit and also profundity in Parks' stupid little pinhead of a brain, I bet.
*So, anyway, the track titled Van Dyke Parks is actually the old hymn, Nearer My God to Thee.
*I wish someone would get nearer to God.
*So, let me just explicate this 58 second track. It opens with the sound of waves and a foghorn. Parks fades up from the bottom with a guitar strumming behind him. He sings the first line of the song. Then a bellowing chorus comes in on top of him in a different key OF COURSE! Then on top of all this, we get the sound of bombs falling and exploding.
*I wish a bomb would . . . oh, skip it.
*This kind of stuff just incenses me. I mean, you want to **** up your own song, go ahead. But how about you leave the great hymns of the church the hell alone, you pretentious, addle-pated twit?
*And anyway, what is all that supposed to mean? Because you just know he thinks it 'means' something.
*I can tell you what I think it means.
*But seriously, when you can take a simple, beautiful song like Nearer My God to Thee and decide that it needs a foghorn, waves, bombs exploding and a chorus singing on top of you in a different frigging key . . . you obviously need some kind of serious therapy.
*Next up . . . it's Public Domain. *You know what? Every ******** song sounds exactly like all the others. Echo-drenched ponderous vocals over a soupy morass of backing instruments playing in different keys and different rhythms.
*So, Public Domain is, like Vine Street, split into two parts separated by a fade down. I don't suppose there's anything else to say that I haven't already said about the other tracks.
*I wonder if you believe me when I say the different keys thing. Well, the last thirty seconds here, it sounds as though he has two different string quartets playing two different songs in two different keys. This passes for genius among the post-modernists and for total **** among anyone with a brain.
*Next up, it's Donovan's Colors. And it is, get this, an instrumental cover of the Donovan song.
*You know, at one point, in the mass of all the other instruments, I heard a nylon stringed piano, a tack piano and a regular piano all playing at one time. Also a harpsichord.
*So, you know, I think anytime you think, "What this song really needs is four pianos," you should really just step back and wonder if maybe you're going over the top a little bit.
*So, I'm not the biggest Donovan fan in the world. And Donovan is kind of easy to make fun of. So, let me just show you the kind of disdain I have for Van Dyke Parks when I say that not only should Donovan totally kick Parks' ass, he probably could.
*I mean, you are getting pretty wussy when people are calling for Donovan to give you a beat down, yes?
*I should say that he has a lawnmower moter or something running in the background for part of this song. And he has one of the pianos come in playing in a different key than all the other instruments.
*I HATE this guy. I mean, I would literally spit on him right now if he stood in front of me. What a jackass.
*Next, it's The Attic, which is indistinguishable from a lot of the other songs.
*Van Dyke Parks captures perfectly a feeling we've all had: "Through the panes cloud buttermilk war remains and twisted cross war refrains lunatic so high moon I said high moon lighted high moon eye to my moon."
*I'll give you a moon.
*Go back and read what I said about people trying to imitate Dylan in my review of McLean's American Pie. It's all truer here.
*Next up it's Laurel Canyon Blvd, the full minute and a half version. It's even more annoying than the short version, but otherwise sounds just like it.
*Next up, it's By the People. And this one is almost six minutes. It opens with a screeching opera singer. Surprisingly, Parks sings in the same key when he comes in on top of her.
*So, I didn't know how long this track was going to be when I started it, but when it started I knew it was the next to last track. And all the other tracks have been anywhere from one to three minutes long.
*So, suffice it to say that I literally looked at the CD counter seven times during this six minute song. I finally started counting.
*So, yeah, it's like all the others.
*At like five and a half minutes, there's a false ending and then it's quiet for a second and then the music comes back in.
*At that point, I literally said aloud, "You m******f*****."
*I meant it too.
*You really won't believe some of the 'singing' Parks does on this track. There's this really incredibly annoying echo effect on part of this 'song.'
*There is also the sound of rain falling and church bells ringing.
*I hope the bell is tolling for someone.
*Anyway, this is killing me and it's like the fifth time I've suffered through this album, so let's just finish this damnable thing.
*The last track is a very quiet piano/vocal track called Potpourri. It's mixed so low that you can barely hear it.
*In other words, BEST TRACK ON THE ALBUM!
*Okay, how do I sum up? I really cannot express my absolute disdain for this album in words. This album has now displaced The Hangman's Beautiful Daughter as the worst album I have ever heard. This is just the most annoying, irritating, infuriating, enraging, unmusical, pretentious, horrid, ugly, dim-witted, idiotic album I've ever heard.
*It's not that I'm surprised Parks had a career after this abortion. I'm surprised he wasn't hunted down by a mob of everyone who actually bought the album and then hung by the neck until he was dead.
*I don't know if murder warrants the death penalty. But this album may.
*Allow me to close with the final words of Parks on this album: "Time is not the main thought from under the rain wrought from roots that brought us coots to hoot and haul us all back to the prime ordeal. Dust off Pearl Harbor time."
*Amen and amen. How often have I wanted to say exactly that and lacked the words.
*Rumor has it that when this album was released it was one of the most expensive albums ever created. I don't doubt it. And what a disaster. Worst album ever? That I've heard anyway.
*Next time . . . oh, dang, I'm not sure what it'll be next time . . . maybe Michael Bolton? Yeah, we'll go with that. Michael Bolton's Timeless pummels us with the 'hits.' Be here for that. After Song Cycle, even Bolton will be a relief.